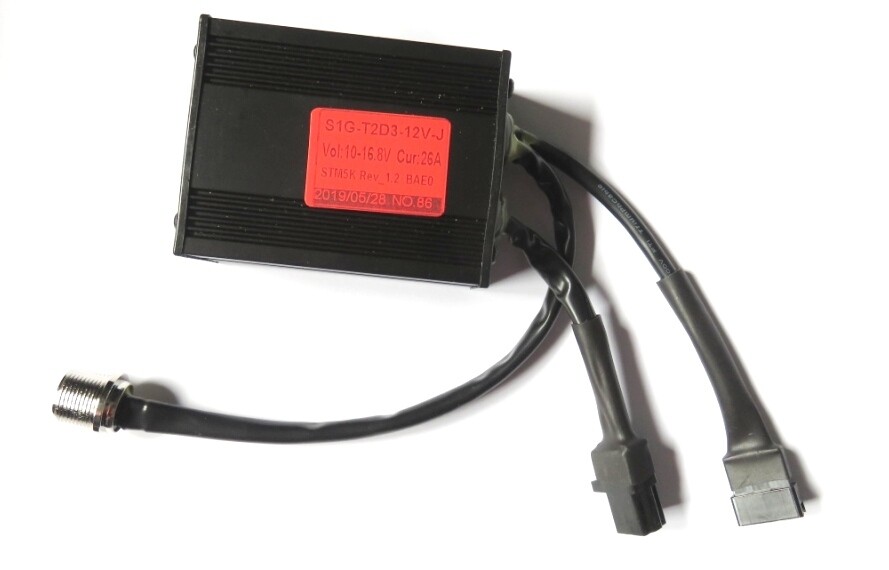 Ben Sayers Golf Trolley Controller (winged handle type SIG-T2D3-J-12V
4108
Product Details
Fits Ben Sayers golf trolley main controller unit for newer winged handle Type no. SIG -T2D3-J-12V
Controller can be used with the handle shown. For the newer style with the winged type T bar handles - see photos.

(THIS CONTROLLER DOES NOT WORK WITH THE ORIGINAL T handle Ben Sayers RECTANGULAR HANDLE CIRCUIT - it needs the S1G-12V-8-J-9 controller Product No. SKU4107 )
Fitting Controller: Turn the trolley upside down and unscrew the cover to the controller under the battery tray. The controller is plugged in with three connections you should unplug all the connections and remove them.
NOTE: Please take note of the pictures as well as the descriptions in order to determine if the part is suitable for your model of golf trolley. Many golf trolleys vary slightly and we have made as clear as possible any illustrations or descriptions.

Save this product for later